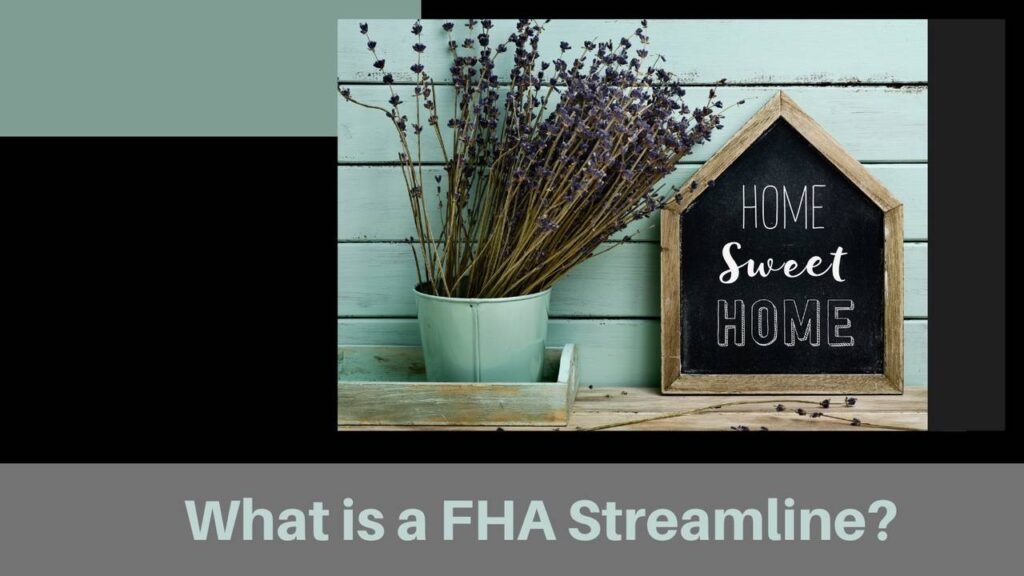 What is a FHA Streamline?
If you have an existing FHA home loan you may want to find out if how a FHA streamline loan works and what the benefits are.
The FHA streamline is a special refinance product, reserved for homeowners with existing FHA mortgages. An FHA streamline is the fastest, simplest way for FHA-insured homeowners to refinance their mortgages.
There are many benefits of the FHA streamline program including:
Low refinance rates
Lower MIP rates
MIP refund
No appraisal
No verification of job or income
No credit check
If you have an existing FHA loan and you want to refinance, the FHA streamline should be your first stop.
Its benefits are nearly unmatched by any other refinance option. For example, there's an additional benefit for FHA-backed homeowners refinancing within the first three years of their existing loan origination. The FHA provides a partial refund on your previously paid upfront mortgage insurance premium (UFMIP). The size of the refund diminishes as the three-year window elapses.
It's important to note that FHA homeowners are only eligible for the streamline refinance program after six months. So, your eligibility for an MIP refund starts at seven months after financing your original FHA home loan. For the most part, the FHA streamline works like any other refinance program. It's available as a fixed-rate or adjustable-rate mortgage; it comes with a 15- or 30-year term; and there's no FHA prepayment penalty to worry about.
Another big plus is that rates for the FHA streamline refinance are the same as mortgage rates for a homebuyer's FHA loan. There's no penalty for having very little equity in your home.
The biggest difference between the FHA streamline and most traditional mortgage refinance options is that the FHA streamline doesn't require a home appraisal. Instead, the FHA streamline will allow you to use your original purchase price as your home's current value, regardless of what your home is actually worth today. The "appraisal waiver" has been a huge hit with U.S. homeowners, allowing unlimited loan-to-value (LTV) home loans via the FHA streamline refinance program.
Another big plus is that it is fairly easy for you to refinance your FHA home loan into an FHA streamline. The FHA streamline refinance does not require most of the typical verifications that you need to get a new mortgage. For example, FHA's mortgage guidelines mean that you have no employment or income verification.
Although the FHA streamline refinance bypasses "traditional" mortgage standards, like income verification and credit qualification, the program does enforce minimum standards for applicants and some lenders will have additional credit requirements, so you will want to check with your lender for a complete list of requirements.
At a minimum you will need to show:
Three months of on-time mortgage payments
At least 210 days since your home purchase or last refinance
A clear monetary benefit to refinancing
Remember that not all lenders underwrite to the official guidelines of the FHA and some lenders might have minimum credit score or other underwriting standards for FHA streamline mortgages, so you want to check with your lender. The number one qualification standard for an FHA streamline refinance is that homeowners using the streamline refinance program must have a perfect payment history stretching back at least three months.
This means that homeowners with 30-day, 60-day, and 90-day late payments are not allowed to use this refinancing option.
The FHA also requires that borrowers make six mortgage payments on their current FHA-insured loan, and that 210 days pass from the most recent closing date, in order to be eligible for a streamline refinance. The refinance must have "purpose". This means that streamline refinance applicants must demonstrate a 'Net Tangible Benefit' from the refinance — meaning there will be a clear monetary benefit to the new loan.
If you are wondering what Net Tangible Benefit means, it is defined as reducing the "combined rate" by at least one-half of one percent. Taking "cash out" to pay bills is not an allowable Net Tangible Benefit and loan balances may not increase to cover loan costs.
You can't take extra cash out when refinancing with an FHA streamline loan. This refinance is designed mainly to lower the homeowner's interest rate and payment.
If you currently have an FHA home loan, you may want to check into the benefits of doing an FHA streamline refinance.