No Excuse Mortgage Process - ( NXP )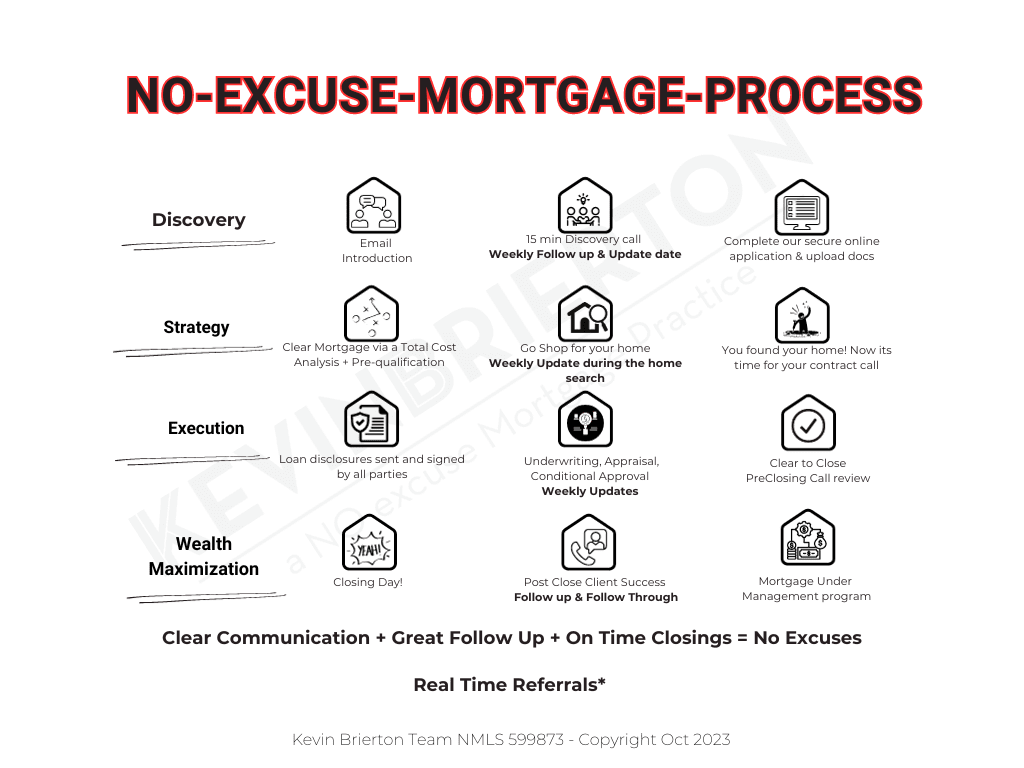 Are you sick of excuses from lenders & banks? We are too! We have built a No Excuse Mortgage Process designed to provide an process that provides clear communication, great follow up and on time closings with no excuses.
Discovery - It all starts with the initial referral looking for a mortgage plan and pre-approval or a refinance equity plan. At this point we will jump into action to ensure we follow up and engage quickly and efficiently.
We have found that once we help one client they know others that need good mortgage planning help as well. We feel its our no excuse duty to ask we can count on our clients to call us if they hear of any friends, family or coworkers looking to buy sell or refinance each time we end a phone call. People need help right now and we are confident that we are the right people to provide the best stategic mortgage plan.
Strategy - We provide a clear mortgage plan via a total cost analysis. This plan laysout a clear plan with side by side comparisons to ensure you make an even better mortgage decision.
During home shopping, we will be following up weekly to ensure we are there as a strategic no excuse parter to help structure the best possible mortgage while making offers. We don't work accoss the table from our clients we come around to work on the same side of the table working together.
Execution - We take a no excuse mindset when processing your loan to create a flawless home loan experience for you. If you are in a highly competitive market, we will position you to close your loan as quickly as possible. If you need more time to prepare, we will continue to advise you on your financial situation until you are ready to buy or refinance your home.
Once a client goes under contract we call both the borrower and co-borrower every Tuesday between 9 AM and 11 AM. These calls provide updates and build rapport. At the end of the call, they ask for referrals. No Excuse Duty to help our clients friends and family.Separate
Wealth Maximization - ( next 30 yrs ) Your life and the real estate market where you live can change rapidly. Even after you are in your new home, we will continue to manage your mortgage and help maximize your wealth.
Wednesdays are for our past clients Kevin's team understands your busy schedule and calls your mutual past database on your behalf. We maintain quarterly contact to ensure there finacial life is running smoothly and provide important homeowner and market updates to successful homeownership.
Realtors - Real-Time Referrals - If the borrower or co-borrower has referrals to offer, Kevin's team immediately notifies you. You'll receive these referrals in real-time, ensuring you don't miss out on potential clients.
**On average, a referral will convert at 15% to 25% where a online lead will convert at 0 to 2.5% = leaving more time to work with our clients and partners rather than raking water chasing people the don't want or need to speak with us.