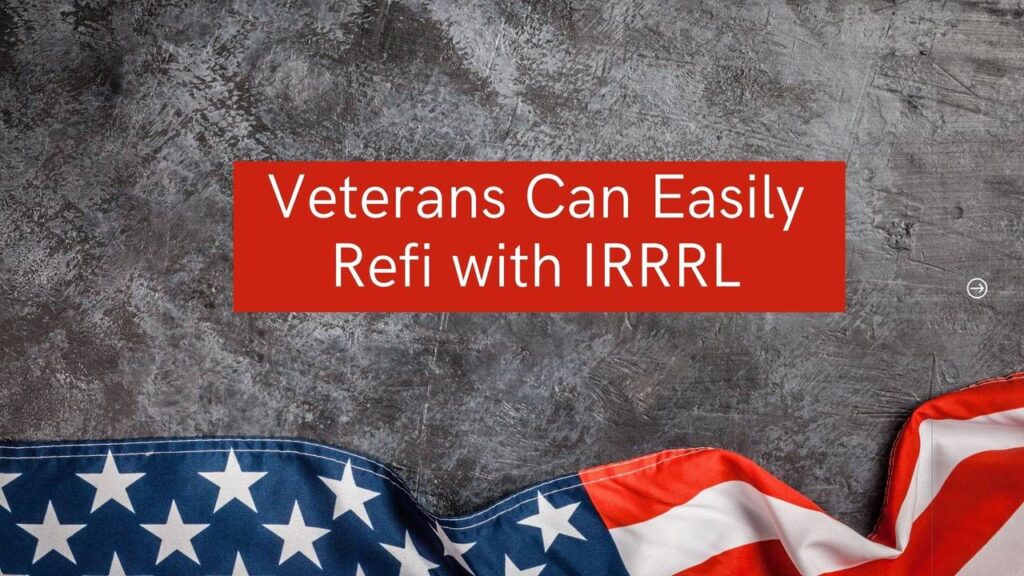 VA Streamline Refinace IRRRL
If you are a veteran with an existing VA Home loan you have access to one of the most straightforward and powerful refinance options around today with the VA IRRRL, also known as a VA streamline refinance.
VA Streamline refinance loans are relatively easy and can be completed quickly, due to the fact that homeowners are refinancing from one VA Loan product to another.
What is a VA IRRRL (Streamline Refinance)? 
A VA IRRRL is a mortgage refinance option for Veterans with an existing VA loan. IRRRL stands for Interest Rate Reduction Refinance Loan. The VA IRRRL allows homeowners to refinance an existing VA loan to a new VA loan with a lower interest rate or convert a VA loan from an adjustable to fixed-rate. It's often called a VA streamline because it generally requires less paperwork and is faster than a typical refinance.
VA IRRRL Rates
The primary reason many Veterans refinance is to lower their current mortgage's interest rate. IRRRL rates may vary from home purchase rates. With interest rates at historically low rates, a VA IRRRL may be the perfect option for you to lower your monthly housing payment. There are many benefits to getting a VA IRRRL. Let's look at those.
VA IRRRL Refinancing Benefits
With a VA IRRRL, there are several advantages, including little to no out-of-pocket costs and no VA appraisal in most instances. To avoid out-of-pocket costs, homeowners can choose to roll the closing costs and fees into the loan balance. So, what are the requirements?
VA Streamline IRRRL Requirements
You may be eligible for a VA IRRRL if you financed the property with a VA loan and can certify you live or have lived in the home. The IRRRL is not available to Veterans with non-VA loans. Veterans with non-VA loans wishing to refinance to a VA loan can look to the VA cash-out refinance option. Lenders may also have guidelines and requirements regarding how long you've had your current mortgage, how many payments you've made and how long it will take to recoup the costs and fees associated with the new loan. You'll want to get your questions answered. Specific guidelines and policies on credit scores, appraisals, loan-to-value ratio and more can vary by lender.
Another important VA IRRRL benefit is that the VA streamline refinance only requires previous occupancy of the home. Unlike VA home purchase loans, you do not need to intend to occupy the property as your primary residence. However, you will want to check with your lender for additional requirements.
VA IRRRL Refinance and the VA Funding Fee 
The VA funding fee is an upfront fee applied to every purchase and refinance loan. Proceeds from this fee are paid directly to the Department of Veterans Affairs and are used to cover losses on any loans that may go into default. The good news is the VA funding fee is lower on IRRRLs than for typical VA purchase and cash-out loans. Borrowers who are not exempt pay a 0.5 percent funding fee on their IRRRL. Borrowers can roll the VA funding fee into the loan balance. Homeowners who receive compensation for a service-connected disability and qualified surviving spouses are exempt from the funding fee.
You may be wondering if cash-out is allowed with a VA IRRRL?
A VA IRRRL is generally a form of refinancing where no cash-out is allowed. However, as much as $6,000 in additional money may be borrowed to cover the cost of energy improvements completed within 90 days before closing. Ask your lender for details.
What is VA IRRRL closing costs?
Closing costs and fees can vary by lender. However, borrowers can typically roll these into the final loan amount. Again, keep in mind that refinancing may result in higher finance charges over the life of the loan. You can also shorten the term of your existing VA 30-year mortgage by refinancing into a 15-year with an IRRRL.
Refinancing to a 15-year mortgage is entirely possible and very common. The lifetime interest cost of a shorter loan will be less than a 30-year mortgage. However, it is important to remember that the monthly payments on a 15-year mortgage can be significantly higher. You will want to look at both the monthly payments and lifetime interest costs to see if a mortgage with a shorter term makes sense.
Whatever your financial goals are, considering a refinance with a VA IRRRL may be just what you are looking for to lower your monthly payments or shorten your loan term.