TWO WAYS THE FEDERAL RESERVE IMPACTS MORTGAGE RATES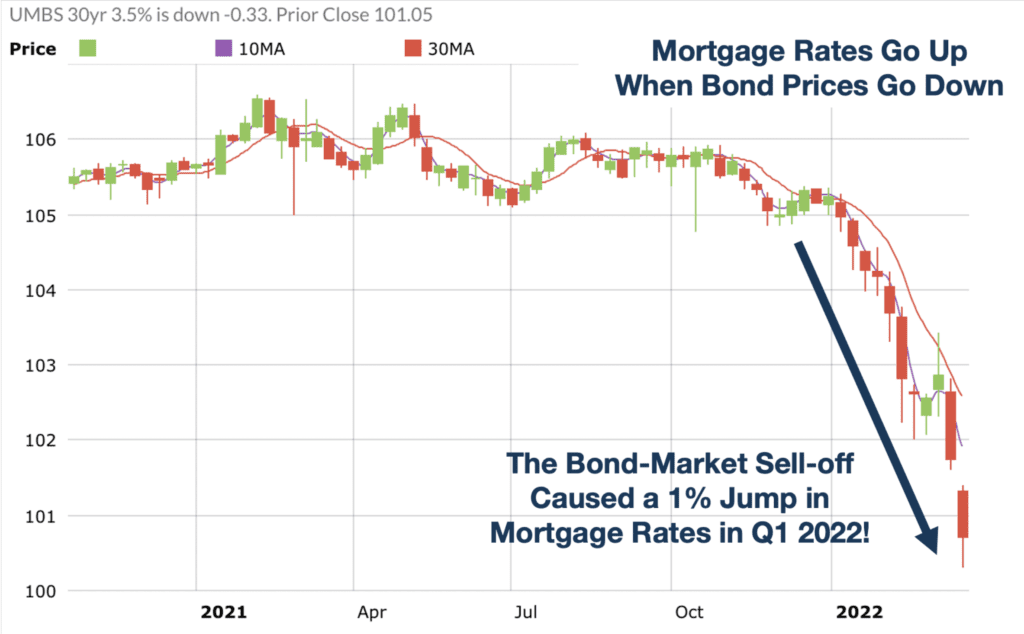 TWO WAYS THE FEDERAL RESERVE IMPACTS MORTGAGE RATES – 5.10.2022
1- THE FED IMPACTS FIXED-RATE MORTGAGES BY BUYING AND SELLING MORTGAGE BONDS.
Interest rates on fixed-rate mortgages change whenever the Fed buys or sells mortgage bonds, and whenever the Fed makes statements about buying and selling mortgage bonds. Since the pandemic hit the economy in March 2020, the Fed has purchased an eye-popping $2.9 TRILLION of mortgage bonds, making it the biggest buyer of bonds in the market. This caused interest rates to go down to record levels.


However, as you can see from the chart, mortgage bond prices fell off a cliff in Q1 2022 when the Fed announced it would be scaling back its massive bond-buying program. When mortgage bond prices go down, mortgage rates go up. The average interest rates on fixed-rate mortgages went up by approx. 2% so far this year according to Freddie Mac's weekly survey of mortgage rates. Expect more volatility in mortgage rates as the Fed continues to release more details about when and how it plans to roll back its bond-buying programs and reduce its bond holdings.

2- THE FED IMPACTS HOME EQUITY LINES OF CREDIT BY CHANGING THE "FED FUNDS RATE."
Interest rates on home equity lines of credit (HELOCs) change whenever the Fed lowers or increases the "Federal Funds Rate." That's because HELOCs are based on the Prime Rate and the Prime Rate is based on the Fed Funds rate. The Fed increased rates in March 2022 for the first time since 2018 and indicated more rate hikes are on the way. This means that rates on home equity lines of credit are likely to increase by approx. 2% by the end of this year.

NUMBER OF THE WEEK$2.9 Trillion
That's the number of mortgage bonds the Fed has purchased since March 2020. The Fed plans to reduce its bond holdings in the coming months which could drive up mortgage rates.
Source: Momentifi
Kevin Brierton
Sr Loan Consultant
NMLS: 599873
Caliber Home Loans
[email protected]
(480) 553-8770
16430 N Scottsdale Rd Ste 170,
Scottsdale, Arizona 85254
Corporate NMLS: 15622
All loans are subject to credit approval. All rates and programs subject to change without notice. Other restrictions may apply. This advertisement is not a loan disclosure or commitment to provide a loan approval or a specific interest rate. This information is not intended to be an indication of loan qualification, loan approval or a commitment to lend. Other limitations may apply. Caliber Home Loans CHL NMLS #15622 EQUAL HOUSING LENDER